Category: travel
Sergio De Bei
March 31, 2016
Something you cannot avoid – The Delhi Belly behind the corner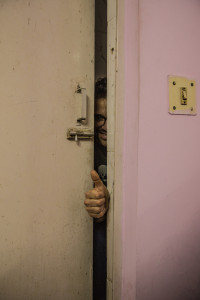 The incense, mixed with the smell of the market, spices, fried food, exhaust fumes of rickshaws, cow poo, burning garbage and urine. India definitely requires a strong stomach.
We were in Delhi for two days when we started to get some strange symptoms. The day before we ate something in a restaurant with a nice view. The temperature was pleasant and it felt like a summer evening. The next day when I woke up, Nina came out from the toilet with a weird face and told me "I don't feel really good". As soon as I heard her, I felt a slight pain in my belly. The famous Delhi Belly affected us as well. Even though we had been very careful (sealed water bottles, reviewed restaurants). Before we left Amsterdam, everyone told me to be careful, and I did. The truth is that you can't avoid it, no way out.
You are wondering 'What is Delhi Belly?'. Sincerely, before this trip I had never heard of it. This funny nickname stands for "a common intestinal infection suffered by travellers not used to the local bacterial contamination of food or drink", that sounds like "It doesn't matter what are you going to eat or drink, the Delhi Belly will strike you anyway".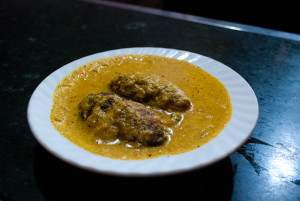 According to our plans we would have to move from town to town every three-four days. We were in the line to buy two tickets for the Metro and it seemed to flow extremely slow. My stomach was hurting and I had two backpacks with me, one on the back, the other one was pressing on my stomach. Everyone seemed to observe us curiously. I still had my watch set on Amsterdam time and someone looked at it and was laughing and commenting.
Nina, concerned, often asked me how I was feeling and I lied with a "I'm fine", but then I started to look pale and to sweat visibly. At her umpteenth question, turning her face she noticed all the sweat running down my body. Her voice seemed muffled. "Sergio, are you going to faint?". Everything was slow and indistinct. The row, the voices, every sound. Then the fresh air coming from a fan made me return to the world. For a moment I really believed I was going to faint.
Once we reached the train (after another visit to the toilet), the worst was over. That night in the train I spent almost all the 17 hours walking from my bed to the bumpy toilet.
For almost a week I was folded by cramps in the bed and Nina was forced to go buy some medicines that after a few days started to work. Every smell bothered me, I did not want to eat anything. Even the water made me sick but I had to drink it and the minerals would help me because I was dehydrated. Then one day, pff. A fart. You cannot imagine that I'd be afraid to make one. A wonderful feeling.
A few days later we arrived in Jaipur for the Holi festival, we passed a man on the street with a scale. For 1 rupee( 1 euro cent) he asked me to stand on the scale. Nina wanted me to do it, just for fun. That day the balance said I weigh 67 kg. If the scale was saying the truth I would have lost 6 kg. They should call it the Delhi Belly diet. That day after all that nausea and the pain, I was fine and I was happy.